Description
Gloweave Check Shirt Long Sleeve
Gloweave Check Shirt Long Sleeve 
For nearly 80 years Gloweave have been making shirts that Blokes love to wear.  Quality is always in style
Generous sizing on these ones to ensure the best fit – so make sure you check the size chart
MEN'S LONG SLEEVE CHECK SHIRT
CONTEMPORARY FIT
PLACKET FRONT
CLASSIC COLLAR
CONVERTIBLE CUFF
LEFT CHEST POCKET
SIZES
37-60 NAVY, SKY, GREY, TEAL, CRIMSON, LILAC & BLACK, 37-56 PINK
FABRIC
60% COTTON, 40% POLYESTER WITH SILK PROTEIN & EASY IRON FINISH



COLOURS
SKY
NAVY
GREY
TEAL
PINK
CRIMSON
LILAC
BLACK
SKY
GREY
TEAL
PINK
CRIMSON
LILAC
BLACK
We looked into Fashion Trends for Men in 2022 and GQ is respected in Fashion but after this we could not go on …….
https://www.gq.com.au/style/best-dressed/autumn-fashion-trends-2022/image-gallery/9940898dc3286f86b2222efaf3e340da?pos=2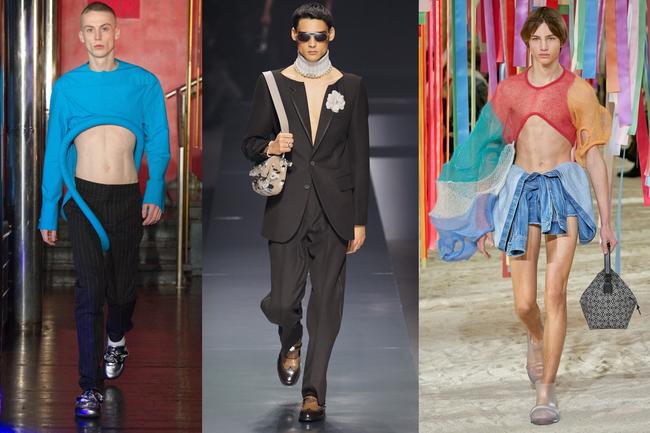 All sexed up
Structured crop tops! Décolletages through cut-outs! Lone nipples peeking through holes in avant-garde knitwear! Autumn/winter 22/'23 fashion week was, for the lack of better phrasing, a sex fest. And what a welcome development it was. Whilst sexiness in the womenswear department has taken the form of clingy party minis and Nensi Dojaka bodysuits, in the world of menswear, it ranged from subtle to superbly bonkers. Fendi's vision of neo-Dandyism comprised knits with keyholes, plunging necklines and cropped tuxedo jackets, while Loewe's frankly bananas presentation saw models pull shirts over their heads and strut in the skinniest of pants.